In The Ultimate Guide To California Small Claims Court – Getting You From "Hey, You Owe Me Money!" To Cash in Your Hand you will learn everything you need to know, from start to finish, to get you through the California Small Claims Court Process.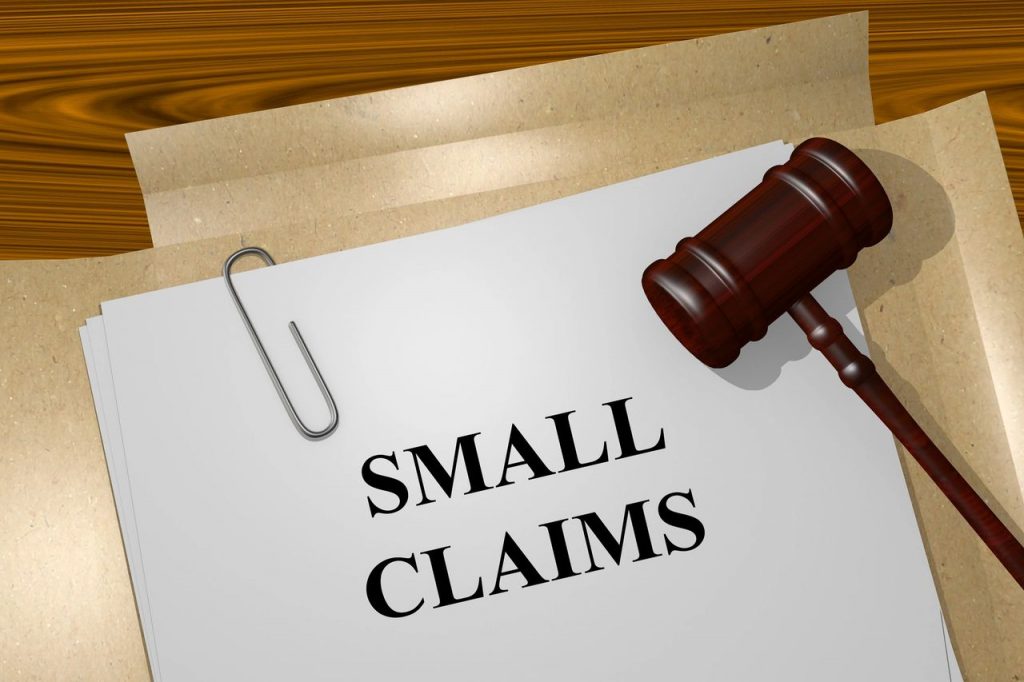 The small claims court system in California can be extremely complicated. Here at D&R Legal Process Service, LLC we can help you navigate California's small claims court system. We like to think of what we do as "small claims court made easy." We are small business owners ourselves, so we know that you don't always have the time to wait in line at a small claims court to track down an unpaid invoice or a neighbor who won't pay their fair share.
We also know that most people don't know where to begin when it comes to navigating the small claims court system in California. That is why we have put together this helpful guide that will take you from the "Hey, you owe me money!" to money in your hand.
Getting Started (Plaintiff)
The first question that people often ask when it comes to small claims courts in California is, "How do I even get started?" We know that the process can seem scary at first, but trust us, it isn't. The first thing that you will do is complete the small claims documents, we have the fillable forms right on our small claims service page.
The forms that you will need to fill out differ, depending on whether you are the plaintiff or the defendant in the small claims court case.  Forms that plaintiffs need to fill out to begin the process include (but are not limited to):
These are just a few of the forms that you can fill out to get the small claims court process started in California.
Quite often you may need to serve your documents on a California Corporation or LLC/LLP and will need to locate the subjects California Agent for Service of Process, you can do so here at the California Secretary of State Business Portal. Make sure to choose Corporation or LLC/LLP and type in the full company name and press the search button. If the company you are looking for does not come up, start cutting off words and try searching again. You may need to search through several pages of results to locate the business you are looking for, assuming you are looking for the correct business name.
If you have trouble filling out these forms – or you have any questions – you can always call us. Our helpful process servers  will be glad to assist you with any vocabulary or what the next step would be for you.
Please note that we are NOT Attorneys and can not give you legal advise but we certainly can give you a referral to one to answer your questions for you.
Getting Started (Defendant)
As we mentioned above, defendants in California's small claims cases may need to fill out a different set of forms. These forms can also be found on our website and include (but again, are not limited to):
These are a small sampling of the documents that you may need to fill out if you are a defendant in a small claims case in California. As with the plaintiff's documents, our experienced process servers will be glad to answer any questions regarding vocabulary you may have about these forms.
One important thing to note – no matter which forms you need to fill out – is that only you, a licensed legal document assistant, or an attorney may fill out these legal documents for the general public. Otherwise, it is considered a felony in the state of California.
Next Steps In The Process
After filling out the necessary forms, the next step in the California small claims court process is to file those documents with the court. This is a simple step that D&R Legal Process Service can help with if need be. When filing your documents with the small claims court, you will need to pay the appropriate filing fee.
California Small Claims Court Fee Schedule
Small Claims for $1,500 or Less are $30.00
Small Claims from $1,501 to $5,000 are $50.00 (only 2 claims may be filed within the previous 12 months for $2,500 or more)
Small Claims from $5,001 to $10,000 are $75.00 (only available to individuals, not businesses)
Filing 13 or more Small Claims in a 12 month period are $100.00 (recoverable filing fee cost is the above amounts, $30.00 or $50.00)
You will then need to set your hearing date. We recommend setting your hearing date for 45 to 60 days out and get your documents out for service right away. You may not have as much time for service as you think. This will allow us to start helping you with your case as soon as possible. To save your valuable time we are glad to file your small claims court documents for you at an additional charge.
Small Claims Service Deadlines
Plaintiff's Claim PERSONALLY served in the same county as the court is 15 days.
Plaintiff's Claim SUB-SERVED in the same county as the court is 25 days.
Plaintiff's Claim PERSONALLY served in a different county as the court is 20 days.
Plaintiff's Claim SUB-SERVED in a different county as the court is 30 days.
Defendant's Claim PERSONALLY served in the same county as the court is 5 days.
Defendant's Claim SUB-SERVED in the same county as the court is 15 days.
Defendant's Claim PERSONALLY served in a different county as the court is 5 days.
Defendant's Claim SUB-SERVED in a different county as the court is 15 days.
The next step after filing your documents is to serve them on each defendant.
Personal Service can be completed at any address in California.
Substitute Service can ONLY be completed at a persons physical home address, usual place of business or their usual place of mailing, excluding a United States Post Office Box.
Only the Clerk of the Court can serve your defendant by Certified Mail, they will charge $15.00 per defendant.
Hiring a California Registered Process Server to deliver your documents to the other party is the best course of action. A professional process server, knows what "Good Service" is and looks like. The law also looks at a process server differently than your relative or friend over 18, who might serve the documents for you. When a RPS serves a paper in California the defendant has to prove that we did not properly serve them, where your friend will have to prove to the court that they did serve the documents correctly on the other party.
To start this process please set up your account and complete the  online work order here. Our service of process fees can be found here. If your documents are not served, the case will be dismissed or you can continue it to a new date to allow you the time to locate and serve the subject.
How To Handle "Bad Addresses"
In some cases, the address given for the defendant is no longer valid. We call these "bad addresses." We have also had several clients who simply didn't know the subject's home or business address. This should not stop the small claims process from going forward as long as you can locate a new address for the subject.
If the defendant's contact information is invalid or unknown, we can initiate a skip trace or a private investigation at your direction. These additional services may allow you to track down the person you want to serve. Here at D&R Legal Process Service, it happens to be one of our Licensed Private Investigators specialties. We have a knack for tracking down defendants here in California.
One thing to note, if the subject is found to no longer be in California, your California Small Claims Action is not allowed to be served outside of California. Unless it meets one of the following two exemptions:
The defendant is an out of state motorist who had an accident in California.
The defendant owns property here in California but lives outside the state, an out of state landlord.
What To Do After Your Documents Have Been Served
Once the defendant has been tracked down and the documents have been served, the case will proceed to California small claims court. If you don't have any additional services like subpoenaing witness's or records, all you will need to do is show up to your court hearing date and win your case.
If you do need witnesses or records subpoenaed please let us know right away, these documents will have their own statutory timetables and time may be short at this point in the game.
After your case has been won, the state of California mandates that you wait 30 days before you can attempt to collect on the judgment. This allows time for the other party to file an appeal to rehear the case or pay you the judgment willingly.
It is worth noting that in the California Small Claims Appeals Process, both the plaintiff and defendant are allowed to hire and have an Attorney represent them at the appeals hearing, where before in the normal small claims hearing, an attorney was not allowed.
If the statutory 30-day waiting period has expired and the defendant still hasn't satisfied the judgment, you do have the right to start the collection process and attempt to force them to pay.
Collecting On A Small Claims Judgment In California
In California, you can collect on a judgment issued by a small claims court through either an:
Earnings Withholding Order
Bank Levy
Third Party Levy (also known as a Rent Levy)
To start collecting on your judgment in California, you will need to provide any of the following information:
Debtor's place of employment
Debtor's bank and account number
Debtor's rental property address and tenants names
The name and address of the person or company who owes money to the debtor
Earnings Withholding Order
If you know where the subject of the judgment works, you can collect money through an Earnings Withholding Order, which allows you to garnish the subject's wages, assuming the debtor does not already have an EWO in place against them. Only one wage garnishment can be in place at a time and they are paid first come, first served. Two things can kick your EWO out of the way if it is currently being enforced:
A Child Support Order
Tax Payment Order
Bank Levy
Knowing the debtor's bank and account number allows you to collect the money you are owed via a Bank Levy. In California, the bank may designate a single location in the state to receive all of their Bank Levies. To see if the debtors bank has a central location for service of legal process, you can check the California Department of Business Oversight. If the bank is listed on this website, then you can only serve this location in California. If the bank is not listed then you can serve the bank levy at any bank branch in any county of California. There are various Exemptions from the Enforcement of Judgments, you can find all of the current exemptions here.
On 9/1/2020, CCP 704.220 went into affect that created "the minimum basic standard of adequate care for a family of four," this created a minimum amount the debtor must have between all of their accounts. The current exempted amount is $1,700.00 and will be adjusted every year in July. The bank you levy upon is only going to know the amounts for accounts that are held with their bank, meaning if the account has less then the exempted amount the levy will fail to collect anything and you are only entitled to the amount that is above the exempted amount. Under the current exempted amount, if the account had $3,000.00 in it you would only receive $1,300.00 from the levy. If the amount was under $1,700.00 you would receive nothing.
Rent Levy
A Rent Levy allows you to collect your debtor's rental income. These can be very difficult to enforce. First of all you need to know the renters names for each unit. Secondly you are usually dealing with people who don't understand the legal process and could allow the landlords illegal threats to influence them to hand over the rent to the landlord instead of following the court order they were served with and sending the rent to the sheriff's department, like they are supposed to do. You might have slightly better odds doing a Rent Levy at a commercial property, by serving it on a business that may be more familiar with the legal process and have access to legal counsel to confirm that they should send the money to the sheriff's department, instead of giving it to the landlord.
Third Party Levy
A Third Party Levy is used to collect money that is owed to the debtor by another person or company. You will need to know who to serve the levy on and what address to serve it at. If dealing with a Corporation or a LLC/LLP you would likely serve it on their agent for service of process or at the physical business location.
Collecting from Real Estate
If the debtor owns property (either a home or land) in a specific California county, you can fill out and record an Abstract of Judgment – more commonly referred to as a "lien", against the debtor. This forces the debtor to pay off the money they owe you before selling or refinancing the property. Liens are also enforced on a first come, first served basis, meaning if there are a lot of liens on the property ahead of you or the dollar amounts far exceed the value of the property, your lien will likely not be enforced and turn into money in your pocket. In the event that the defendant "Short Sales" the property or is Foreclosed on, this will wipe out the lien and you will get nothing. We saw this happen quite frequently during the Great Recession and the housing crunch.
Till Taps and Keepers
Another option that you have when it comes to collecting on a small claims court judgment is a "Till Tap," or "Keeper." This is used when a business owes you money in California. Keep in mind that this action can only be performed by the sheriff's department in the respective county, you will need to contact the sheriff's department directly for this method.
A Till Tap is where the sheriff's department will go to the business and take any cash and checks that the company has on hand and then leave the business. It's a one shot deal.
A Keeper is where the sheriff's department will go to the business and sit there for a set amount of time and collect and cash or checks that come in during that time period.
This can be a very expensive option and with the proliferation of debit cards and credit cards, it has become a more difficult option of collection method than it has been in the past. We have also heard of businesses telling customers for example, that their cars is not ready for pickup yet when the sheriff is there and to come back tomorrow when the sheriff won't be there because it's only a 1 day keeper.
You Got Paid!
Once you have received the money that you are owed, the final step in the process is to file an Acknowledgment of Satisfaction of Judgment with the California small claims court. Here at D&R Legal Process Service, LLC we can help you with this step as well by filing the document with the court on your behalf but you or an attorney will still have to correctly prepare the document.
What To Do If You Do Not Have All The Necessary Collection Information
When attempting to prepare one of the collection methods listed above, you may find that you do not have all the necessary information. Don't panic; it is still possible to collect on your small claims court judgment.
For one, our private investigators may be able to perform an Asset Search, thereby locating the debtor's assets.
Alternatively, you can have the debtor served by a Registered Process Server in California. The Process Server will serve the debtor with a document called an Order to Produce Statement of Assets and to Appear for Examination, along with a Judgment Debtor's Statement of Assets or an Application and Order for Appearance and Examination. This document requires the debtor to attend a hearing and disclose their assets to you, or else face a bench warrant. We recommend printing a copy of the court's Suggested List of Questions for Debtor Examination and taking it with you to the hearing.
We can assist you with the small claims collection process and for more information about our Judgment Enforcement Service and pricing, please visit our website page.
The Importance Of Hiring The Right Process Serving Firm
Our Ultimate Guide to California Small Claims Courts would not be complete if we didn't mention the importance of hiring the right legal process service. We have seen too many people attempt to go through the small claims court process alone or with the wrong service, only to get tripped up every step of the way. Many times people will come to us and we have to give them bad news that they waited too long to get the documents out for service and now they have to go back to the court and get a new date, or that the defendants name does not match exactly what the secretary of state has on file and have to go back to the court and amend the document. Sometimes they had a friend or even worst, an inexperienced process server attempt to serve the documents or flat out serve the documents wrong, we end up fixing a lot of problems for our clients.
A firm like D&R Legal Process Service, LLC that has over 173+ 5 Star Reviews, Across 5 Different Review Sites, can help you navigate the process. Feel free to contact us with any questions you may have about the small claims process or call us at 1-510-797-9996 anytime.